UTHealth Houston School of Dentistry surgeon stops oral cancer after it was uncovered during a routine dental visit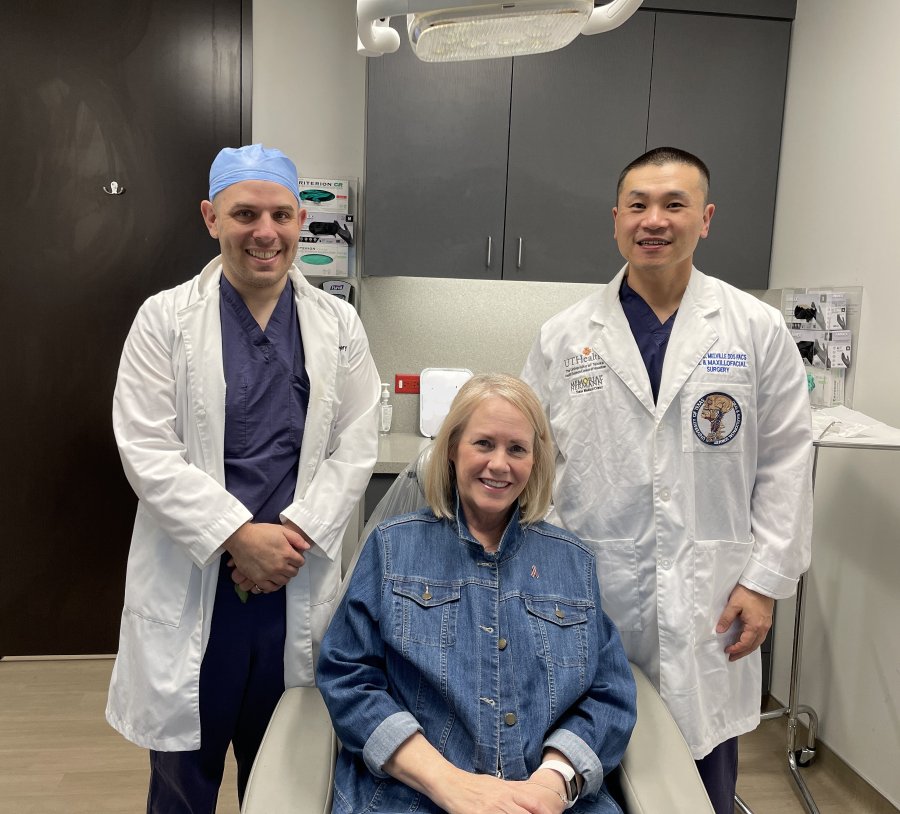 Last year, Linda Pellerito began feeling odd, stinging sensations on her tongue and noticed a white spot, so at her next dental appointment, she mentioned it. An oral cancer screening revealed something suspicious.
"I walked in to have my teeth cleaned and walked out with orders to have a biopsy done the next day; it was a whirlwind," Pellerito said.
She was completely shocked to learn the discomfort and spot was slow-growing cancer. For a moment, she felt lost, until her dentists referred her to James Melville DDS, an oral and maxillofacial surgeon with UTHealth Houston School of Dentistry.
Nearly 20,000 invasive oral cancer cases are diagnosed among men and women in the United States annually. According to the National Institute of Dental and Craniofacial Research, oral cancer rates are significantly lower for women than men.
Pellerito met with Melville and scheduled her surgery. "She wasn't in the typical demographic that you think would get oral cancer," Melville said.
Pellerito has no family history of cancer, isn't a heavy drinker, and has never smoked, which are all linked to an increased risk for oral cancer.
"When I received the diagnosis, I went underwater for a minute or two. The only thing I wanted as a result was to be cancer-free," Pellerito said. "I felt enough confidence from Dr. Melville that I wasn't scared for myself."
Melville successfully removed the malignant tissue while retaining full functionality of her tongue. Because she was on top of her regular dental appointments, doctors were able to catch her cancer at a stage where she did not need radiation and chemotherapy treatment.
"An ounce of prevention is a pound of cure. If you catch oral cancer early, then it is often a lot easier to treat than having to go full-board with extensive surgery," Melville said. "Percentage-wise, smoking and drinking increases the risk of cancer by 30 times. For a unique subset of patients like Pellerito, we don't really know why they get it."
Now cancer-free, Pellerito hopes to spread the importance of routine dental visits and share the warning signs of oral cancer.
"That is my big push, for people to stay on top of their health. Have your doctor look at anything that you question, because it can make a difference," she said.