UT Dentists partners with community health clinic to provide affordable preventive dental care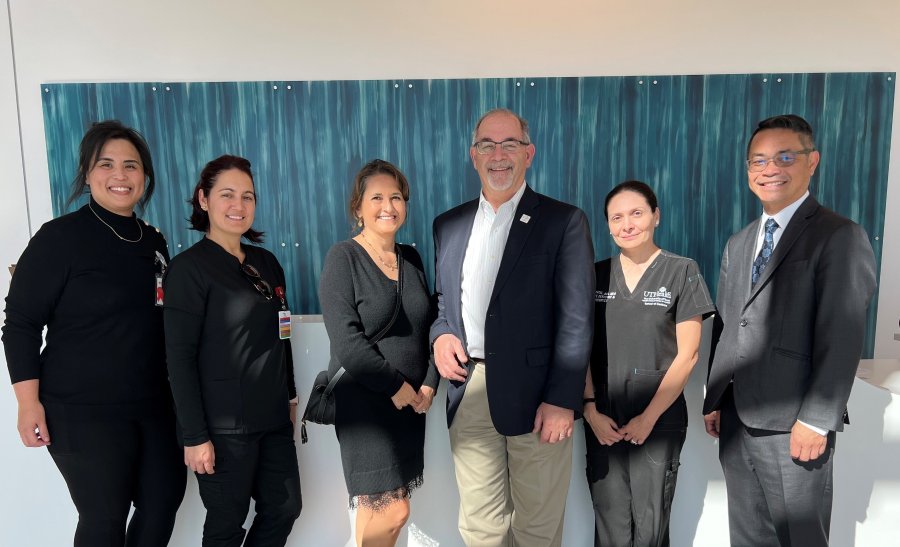 Communities in Southwest Houston have something to smile about: UT Dentists, the clinical practice of UTHealth Houston School of Dentistry, is collaborating with HOPE Clinic to bring accessible dental care as an integrated health service line at a brand new Alief clinic location called the HOPE Health and Wellness Center.
"Health care is important for everybody and it can be a source of stress due to fear of cost. I knew that if I wanted to grow dental service, I needed to do it with a team who shares our goal to provide excellent community-based care," said Andrea Caracostis, MD, CEO of HOPE Clinic, a Federally Qualified Health Center. "Patient dental history will be completely integrated with our electronic health records. We can tie in their clinical outcomes with their oral health needs. That's quite magical."
Caracostis said the HOPE Clinic and UTHealth Houston both have the same objective of bringing better and accessible care to patients in underserved communities. UTHealth Houston School of Dentistry has a long history of community commitment through annual events such as Give Kids A Smile and Give Vets a Smile, where care is provided at no cost, as well as the school's Mobile Dental Van, which travels to underserved areas in Houston and East Texas to provide affordable care.
"Oral health is key for general health and they reflect on each other. The clinic provides the convenience for patients to focus on both, and continue to improve their overall health," said Beatriz Ortega, DMD, a staff dentist for UT Dentists and a dental provider at HOPE clinic. "Healthy gums and teeth can play a large role in building self-confidence in children and adults. Updated oral hygiene reduces the reluctance to laugh, smile, or talk to someone in close proximity."
The facility, at 13930 Bellaire Blvd., is projected to see nearly 100 patients a week. Hours of services are from 8 a.m. to 5 p.m. Monday through Friday and from 11 a.m. to 7 p.m. on Wednesdays. The medical home offers dental exams, cleanings, fillings, extractions, sealants, and pediatric dental services.
Patients currently see medical providers at HOPE clinic for primary, pediatric, behavioral health, and OB/GYN care. The addition of dental care will streamline health care visits, making it a one-stop comprehensive clinic.