Dr. Cardenas joins UT Dentists as new pediatric dentist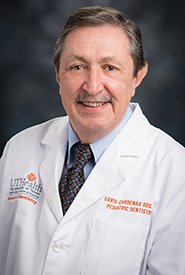 Antonio Dario Cardenas, DDS, MS, joined UT Dentists, UTHealth School of Dentistry's faculty group practice, in September, moving his pediatric faculty practice to Suite 1210 inside the School of Dentistry building at 7500 Cambridge Street in Houston.
Originally from Colombia, Dr. Cardenas attended the Universidad de Antioquia in Medellin, Colombia, where he earned a DDS. He later earned a Master of Science in pediatric dentistry from the University of Illinois at Chicago. Prior to joining the School of Dentistry, where he is an associate professor in the Department of Pediatric Dentistry, Dr. Cardenas was in private practice for more than 30 years.
Dr. Cardenas' clinical interests include dental traumatology, preventive and interceptive orthodontics and restorative dentistry in children, and he speaks both English and Spanish. He is a member of the American Academy of Pediatric Dentistry, the Colombian Academy of Pediatric Dentistry and the Latin American Academy of Pediatric Dentistry.
To schedule your child's next dentist appointment with Dr. Cardenas, call 713-486-4444. Office hours are 8 a.m. to 5 p.m. Monday through Friday.