Oral History
UT geriatric dentist helps patients and caregivers of the elderly preserve oral health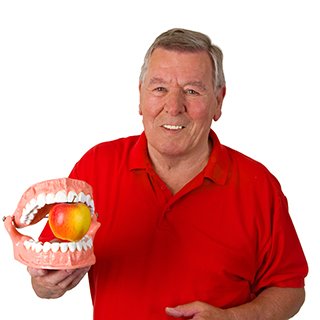 Proper dental hygiene seems easy enough. Brush, floss, see your dentist regularly... and pop a mint after that garlic pizza if you care about those in breathing range of you.
As we age, however, oral health isn't as easy to achieve. If you've noticed an elderly person with persistent bad breath, for instance, it might be a sign that something more serious is happening. Changes such as unusual bad breath, dry mouth or bleeding gums and new cavities may indicate a different kind of problem.
Factors such as dementia, arthritis or other debilitating conditions such as poor eye sight, may be at the root of the problem. It is important for family and caregivers to note and address all oral health issues of elderly persons who may be unable to properly care for themselves.
"Years ago, I had an elderly woman patient who started losing her toothbrush every day. She remembered that she had a toothbrush, but she couldn't find it. This frustrated her. Her husband found it every day and gave it to her to use. He was frustrated, too, and worried, and so he talked to me the next time his wife came in for a checkup," recalls geriatric dentist June Sadowsky.
Sadowsky listened carefully and worked with her patient's husband to find ways for his wife to maintain good oral health.
"I was often dentist and therapist, especially for those who were caregivers to elderly patients," says Sadowsky, associate professor in the Department of General Practice and Dental Public Health at The University of Texas Health Science Center at Houston (UTHealth) School of Dentistry.
UT Dentists serves Greater Houston
The field of geriatric dentistry draws upon special knowledge and technical skills required when providing oral health care to older adults. Nearly 14 percent of the U.S. population is over 65, and this proportion will increase to more than 23 percent by the year 2040.
Oral health is crucial for older adults, who are more prone to systemic conditions, making them candidates for oral diseases, which can lead to malnutrition, altered or reduced communication, increased susceptibility to infectious diseases and diminished quality of life.
Physical changes
As we age, hand and finger dexterity declines. This makes it difficult to hold a toothbrush and nearly impossible to manipulate dental floss. Failing eyesight can thwart proper hygiene—patients don't clean what they don't see. Daily dental hygiene can become yet another thing of the past once dementia or other degenerative brain disorders develop.
"Self-neglect is one of the reasons we are focusing on training caregivers about how to help provide proper dental hygiene to the elderly," says Sadowsky, a diplomate of the American Board of Special Care Dentistry. To boost these efforts, UTHealth School of Dentistry has produced a training video titled, "Elder Loving Care™ Oral Hygiene Training." Co-produced with UTHealth School of Nursing's Center on Aging, this video not only teaches caregivers how to help the elderly maintain good oral health, but also teaches dental professionals how to train these caregivers.
"We must educate the caregivers as well as the next generation of dentists," says Sadowsky, who is working to develop a geriatric dentistry curriculum for dental students. "We need them to be able to safeguard the good oral health of our aging population."
Managing the whole patient
One of the most challenging aspects of treating senior citizens is acquiring an accurate list of all prescription and over-the-counter (OTC) medications they are taking. Today, the average senior takes five prescription meds and two non-prescription meds daily. It is not unusual for a senior to be taking more than 10 prescription medications and five or more OTC medications, including herbal remedies, which are often under reported by the patient. For the dental and medical professionals, juggling medications is complex and requires extensive pharmaceutical knowledge. The chance of adverse drug interactions is high. That's why Sadowsky is teaching young professionals to view the whole patient's history, not just his or her dental histories.
"They can't be treated the same as younger patients. We'll need to use more of a medical model when taking a patient's history," says Sadowsky. "We must be quite skilled at understanding drug interactions and very good at recognizing the potential adverse interactions with any medications we might need to prescribe the patient."
Oral health tips for seniors
Seniors face many special oral health concerns, whether caring for their own teeth or dentures. Follow these tips for correct oral care between dentist visits:
If you have limited use of your hands, adapt the handle of your toothbrush for easy use. Insert the toothbrush handle into a rubber ball or sponge hair curler. You can also lengthen toothbrush handles by gluing them to items such as a ruler or tongue depressor.
If you cannot use a manual toothbrush, switch to an electric model for easier use and greater effectiveness. Electric toothbrushes have been shown to be excellent for removing plaque and stimulating gum tissue.
Dental floss holders are available to assist with daily flossing.
Daily brushing with fluoridated toothpastes and using fluoride mouth rinses have many benefits and protect older smiles from two problems of aging: Root decay and tooth decay.
Dental care of dentures: Brush dentures daily with a soft toothbrush using denture powder, baking soda or even hand soap.. Brush dentures inside and out for optimal cleaning, then rinse them in cool water. Always brush over a basin filled with water to avoid dropping and breaking.
Keep dentures covered with water or denture cleaning solution when not in use to prevent drying.
For more tips on geriatric oral health, go to the American Dental Association website.

This article, which has been updated, originally appeared on HealthLEADER, an online wellness magazine produced by The University of Texas Health Science Center at Houston (UTHealth). Visit HealthLEADER for more articles on a broad array of health and wellness topics.