UTHealth oral surgeons develop new technique for reconstructing diseased jaw joints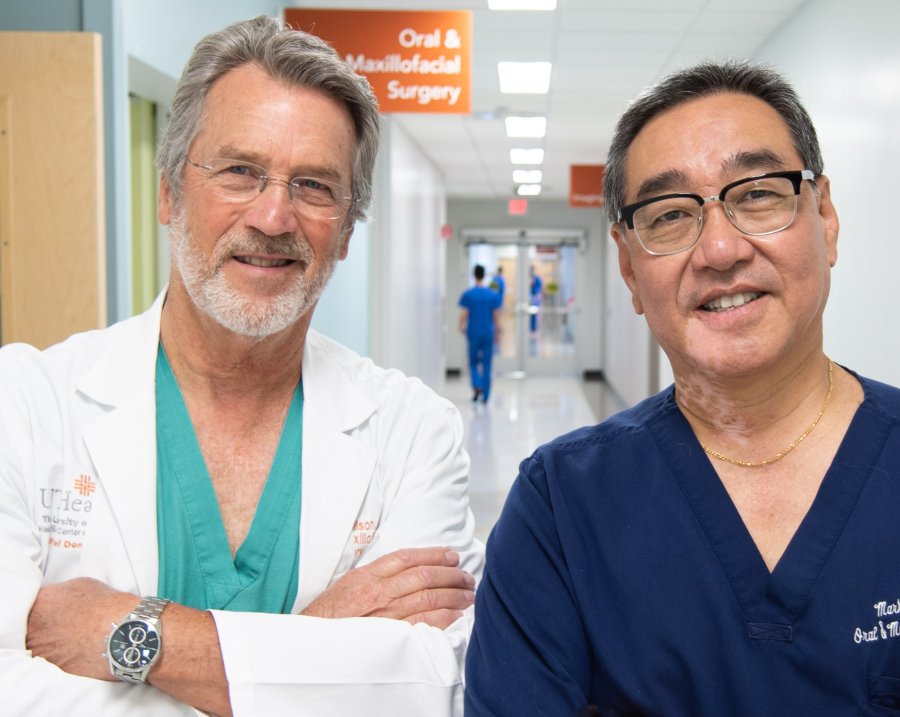 Oral and maxillofacial surgeons at UTHealth School of Dentistry at Houston have developed and successfully tested a new surgical technique that could be a critical step toward using bioengineered cartilage to treat temporomandibular joint (TMJ) dysfunction.
Funded by National Institutes of Health RO1 grants, the preclinical study involving the transplantation of tissue-engineered cartilage into an animal model was done in conjunction with researchers at the University of California, Irvine, and University of California, Davis. Findings appeared online June 20 in the journal Science Translational Medicine.
"In a significant number of patients with TMJ dysfunction, cartilage degeneration is present. Previous efforts at replacing cartilage in joints failed because of the inability of cartilage grafts to survive and heal to the native tissue," said Mark E. Wong, DDS, study co-author and chair of the Department of Oral and Maxillofacial Surgery at UTHealth School of Dentistry. "Our innovation in this project was to develop an animal model that would allow engineered cartilage to be successfully grafted."
Previously, cartilage implants became dislodged before they could heal. Wong and fellow UTHealth oral and maxillofacial surgeon James W. Wilson, DDS, addressed the problem by sandwiching the implants into pockets they created within the diseased cartilage to hold the implants in place.
Affecting up to one in four adults worldwide, TMJ dysfunction is a painful condition limiting jaw movement. The disorder is associated with the thinning of the cartilage that cushions jaw joints. Among other suspected causes, abnormal jaw movements such as excessive gum chewing or nail biting have been linked to the condition.
"The cartilage in your jaw joint functions much like the shock absorbers on your car. When the cartilage wears out, patients lose their ability to withstand the forces produced by normal jaw movements such as eating and speaking," Wong said. "This ultimately results in degeneration of the joint and a poor quality of life."
Because current joint reconstruction options are limited, much work has gone into the development of tissue-engineered TMJ implants to replace damaged tissue.
After surgical placement using Wong and Wilson's new technique, the implants produced by collaborators at the University of California retained their shape and size and were completely healed to the surgical site at eight weeks. There was no indication of implant breakage or fragmentation, Wong said. Each of the implants used in the study was created from rib cartilage from an animal.
With their "intralaminar fenestration technique," the UTHealth surgeons successfully tested the ability of the tissue-engineered implants to restore function to the jaw model.
While the results are promising, additional studies will be required before human trials. The strategy could also be used to repair damaged cartilage in other joints.
At the School of Dentistry, Wong holds the Dr. Bernard and Gloria P. Katz Chair in Oral and Maxillofacial Surgery, and Wilson holds the Thomas M. Weil Professorship in Oral and Maxillofacial Surgery. Wilson also serves as vice chair of the Department of Oral and Maxillofacial Surgery. Wong and Wilson are both on the medical staff of Memorial Hermann-Texas Medical Center.